Open Broadcaster Software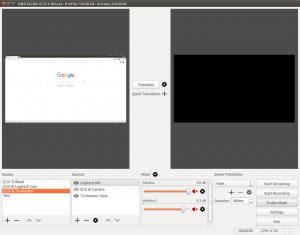 Open Broadcaster Software (shortened as OBS) is one of, if not the most feature filled live streaming and recording software available. It is available for Windows, Mac and Linux.
I ran across it while searching for a live streaming solution that fits a tight budget for our church. We've found that you can reliably live stream to YouTube using OBS, and we're using it regularly for our services now.
With OBS, you can create multiple scenes that are made up of various video, audio and even image sources. The ability to seamlessly transition between scenes is built in with several animations to make your broadcast or recording look as fun or professional as you choose.
The interface itself is not the most beautiful, but it is very functional and easy to use once you're accustomed to it.
The software encodes video in H264 and AAC. You can configure an unlimited number of scenes and sources. It handles RTMP streaming to YouTube as I already mentioned, but you can also stream to Twitch, DailyMotion, Hitbox and more. For local recordings, you can save files as either MP4 or FLV. It handles many types of sources – chances are that if your operating system supports it, OBS can use it.
There are many more features and bits of technical information if you're interested. It's what I'll be using to live stream on this site when I'm ready, but I encourage you to go and check it out for yourself! OBS is open source software and freely downloadable. Head on over to their home page and give it a test!