Samsung Galaxy Note 7 Review
Amidst concerns of battery explosions, recall attempts and competitor jabs, Samsung has delivered a non-exploding, safe version of its Galaxy Note 7. And I'm reviewing it here.
I'll not get into the hardware specs of the phone – you can find those all over the Internet. That isn't my focus anyway. I want to let you know what it's like to actually use the phone and what the experience itself is like.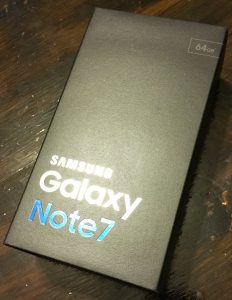 First off, the packaging. Samsung has continued to go the way of Apple and move toward minimalistic and compact packaging. Inside, the first thing you'll see is the phone itself. Pull that out and you'll find a sleeve containing some standard literature and a tool to remove the SIM & SD card tray. Don't lose it, otherwise you'll find yourself straightening a paper clip to open it.
Underneath all that, you'll find your USB charger and adapters (because Samsung is using USB-C for the first time). The significance of USB-C is that it's on its way to becoming the new standard. Practically speaking, it's reversible, meaning it doesn't matter which way it's turned when you plug it in. You also get an adapter to connect your old Galaxy phone to this one so that you can transfer content and settings. I came from a Note 4, but didn't try this as I prefer a fresh installation when I move to a new device.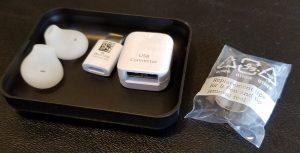 Samsung included extra S-Pen tips and a puller in case you are such a heavy user that you wear the original one out. I love having the ability to pull out the S-Pen from the sleeping phone to jot down a quick note. I hate the idea of having paper lying around everywhere, so the phone is a perfect place to store all those notes. That said, I haven't ever used the S-Pen enough to wear out a tip. Your mileage may vary.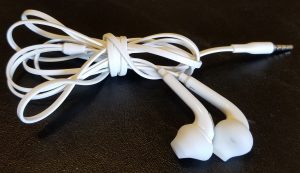 Inside the box you'll also find a pair of earbuds, as well as extra inserts. I didn't get any with my Note 4, so I bought a 3rd party pair. They worked well, but I never could get reliable use out of the inline mic for phone calls. With the Note 7, I anticipate I'll get reliable use out of the Samsung branded earbuds and mic. These earbuds sound great to my ear. You get low bass and clear trebles. I'm no audiophile by any stretch of the imagination, but I have no complaints at all about the sound quality.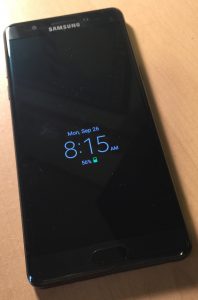 Now on to the phone itself. It sports Gorilla Glass 5 which is supposed to be the most durable of all. However, I've seen many reports of the glass being easy to scratch. So I've treated mine with kid gloves and haven't seen any scratches as yet. But today I have a case and screen protector coming, just to be safe. I'll review those later.
I've always been a little leery of the idea of an always on display. Won't it use too much premium battery juice? So far that hasn't been the case with this one. The display only lights the pixels it's using, so it uses relatively low power consumption to show the date, time and remaining battery. The 'off' screen also displays notification icons to clue you in that something is waiting for your review. When you turn on the display, you're presented with the standard lock screen with available notifications to act upon.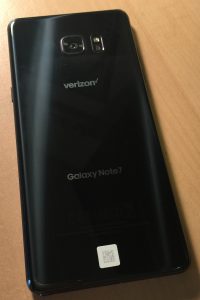 The entire front and back of the phone are covered with glass, with a near-seamless metal facing around the edge. It really is a beautiful device. I partly hate to cover it with a case, but I simply don't want to risk damaging it.
The Note 7 is the first of any mobile device to include an iris scanner. Most thought this would be inconsistent and gimmicky, but for the most part it works well, and fast. I still find myself gravitating toward the fingerprint scanner, but it is nice to have the choice to use either. Speaking of the scanner, it is improved in that you simply touch it rather than having to swipe. I've found it to be much more reliable than the Note 4 or Galaxy S5 because of this.
In my use, the phone has been extremely responsive with absolutely no lagging. Some have found that the keyboard lags when typing sometimes. I almost never use the stock keyboard as I prefer Swype. I installed that almost right off the bat and have had no issues at all.
The S-Pen is what sets this phone apart. You press it to 'eject' it. When you do, you're presented with different actions such as creating a note, writing on the screen or selecting content on the screen. The options are intuitive and flow well with how you'd expect the ideas to work. If you eject it when the phone is locked and the display is off (or it's just showing you the date/time, etc. as mentioned earlier), you can jot down an action memo. This is what I love most about it..you want to write down a quick piece of information and Samsung has given you a virtual notepad that is just as, if not more convenient than traditional pen and paper.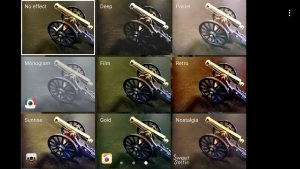 The camera is crisp, clear and responsive. Samsung has updated the camera app to be more intuitive and give you easier access to features. You swipe down to switch between the rear and front cameras, you swipe left to see filters, and swipe right to access settings. A treat I found on this screen is the ability to broadcast live to YouTube straight from the camera app. I haven't tested it yet, but will be in the future.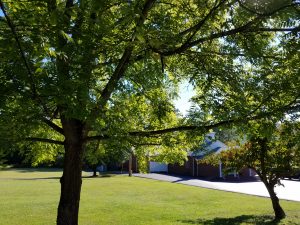 The photos the camera produces are some of the nicest I've seen on any mobile device. The colors are true to life. The detail is impeccable. With Samsung's optical image stabilization, it's easy to get a steady shot every time. This way you skip all of the blurry shots and get a nice capture right away.
A quick note about battery life. I'm personally not a heavy user. I check emails, browse Facebook, check twitter, poke around on Instagram, browse my Feedly and Flipboard feeds. I'll occasionally review documents from emails and of course jot down notes when I need to. I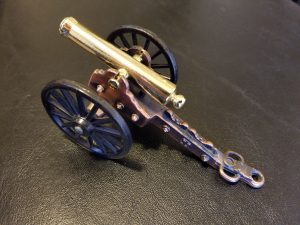 easily get through a full day on a single charge, and get far into the next day before having to plug in again. At the time of this writing, my battery is at 51% after 16.5 hours of use, and am estimated to get another 20 hours of life out of it. That is all without using any of the power saving modes, which are actually really nice now that I mention it.
Two modes, mid and max, are available. The medium power saving mode limits the maximum brightness, lowers the screen resolution, slightly limits the phone performance and prevents background data usage. This means no push notifications for emails and such. I'm told I can get another 3.5+ hours out of my battery by turning this on right now. The maximum power saving mode further limits each of the categories of the medium mode. I'm told that by turning this one on I can get another 33+ hours of usage. Both of these modes can be customized and will change the amount of power savings you'll get with each.
Lastly I'll move on to phone calls. This is a phone, after all… Call quality is on par with any premium device. With Verizon you get Advanced Calling, which is their branding for HD voice, or Voice over LTE (VoLTE). Both standard and HD calls sound great and the phone itself works as you'd expect a phone to.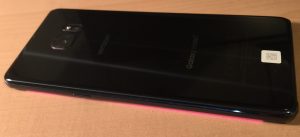 One nifty little feature I'd like to mention in this area though is that in the phone you can assign colors to some of your favorite contacts. If the phone is lying face up when someone calls, it's simple enough to determine who it is. When it's lying face down, however, the Note 7's edges will 'glow' in the color chosen for that particular contact when he or she calls or texts. In addition, you can always set custom ringtones for your contacts so you can tell who's calling or texting without even looking, but this is a nice added feature that takes little effort to configure.
To summarize, I've had absolutely no issues with this phone. Since I've treated it with kid gloves, I've had no issues with scratching, but that is my main (potential) disappointment with the device. It's been well documented that there are issues with scratching on the glass so it's necessary to protect it. Other than that, it is as good as you'd expect Samsung's latest flagship phone to be. Fast, reliable, long-lasting battery, beautiful display, great camera, and of course the S-Pen.
I would totally recommend this device to those looking for a new mobile phone. Just be sure you protect that glass.