Allo…Goodbye
I was pretty eager to get my hands on the new Allo app from Google. It was announced alongside Duo, their cross-platform video chat app (which is really nice, by the way). Allo was supposed to be the next-generation messaging app that would eclipse all the others…
When I saw that it was available this morning, I immediately installed it on my Note 4 and set up my profile, which consisted of giving it my name and selecting a profile picture. I was going to test it with my wife's help (she's on an iPhone), but hadn't yet gotten a chance. Then I had to text someone else real quick and never got a reply in Allo.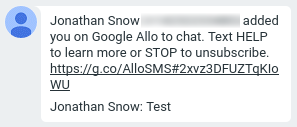 I did some checking, and it doesn't receive SMS messages. Nor does it natively send them. It uses some random-numbered relay service to send a text to someone that isn't using Allo. Disappointing. Instead, it gives the recipient a link to see what in the world Allo is all about and wants them to install it. That's great and all, but the experience is awful. You receive a text saying you got an Allo message and gives you some info about what it is, then gives you the actual message. If you reply to that text, it goes into oblivion because you're replying to that relay number. So the recipient has no choice but to install Allo.
I've unregistered my number and uninstalled the app from my phone. Until Google gives it native SMS/MMS capabilities, I've no use for it. As cool as I think it is, I don't want to force my family and friends to install an app to talk to me because it's 'cool'. I want it to be functional first, and features come second. This simply isn't functional for me, yet.
Here's to hoping they get it right in their next version.